NLP Newsletters & Gifts from Jonathan Altfeld

published by
Jonathan
on Thu, 2011-12-08 07:06
Thanks for your interest!  Lets bring the results you seek, closer!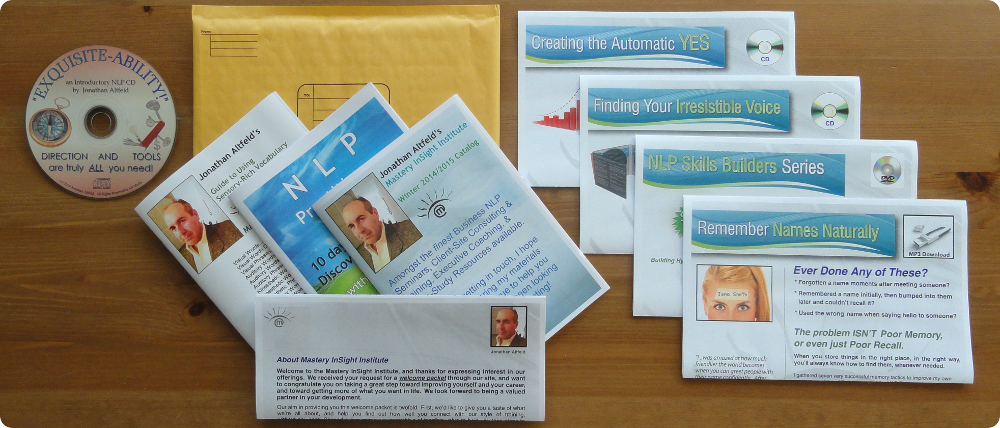 Request your welcome packet with 2 free gifts: a 75-minute intro CD called "Exquisite-Ability", and our popular Sensory-Rich Vocabulary booklet.  These gifts are only sent to complete, verifiable entries (name/address/phone). Incomplete or anonymous requests are ignored.
Iron-Clad Customer Privacy Policy!
Your info is kept private, permanently.  No third parties will ever get your info from us, without your written request.  You can also opt out, at any time.
How We Keep You Informed
We email about blog entries, articles, updates, events, surveys, customer comments, and new home-study resources.  We mail postcards and occasionally call prior to hosting events near you.
Share this Page!
By inviting friends to visit us, you make it more likely that we can visit your location with workshops! Help us grow our tribe of satisfied students and customers!
Offer Restrictions: We do not send to residents of:
India, Malaysia, Indonesia, Philippines, Pakistan, Iran, Iraq, Afghanistan, Nigeria, Egypt, Cote D'Ivoire, & certain others.  If you live in one of these countries, you can purchase a welcome-packet at the low cost of $15, here.
Please note, we do send free welcome packets to most countries around the globe).
NO Yahoo-based email addresses.
Unfortunately, Yahoo blocks email on and off from our (shared) Hostgator server. Do not subscribe with a Yahoo address; we cannot contact you. That will invalidate your form entry.
NLP gifts sent by mail:
CD & Sensory-Rich Word-List

Many NLP Practitioners are more sloppy with their thinking patterns, than they'd like to admit, or... would even notice.

Watch NLP Co-Founder Richard Bandler use NLP to eliminate Michael Strahan's phobic response to snakes -- in minutes (with Kelly Ripa bringing over a BIG snake at the end to test Michael's response). Spoiler alert: It worked ridiculously well.

No matter what skill you want to learn, no matter what fears or concerns or hesitation you may have, there are and will always be a wide range of approaches, to learning that skill.  It's important to keep that in mind when making learning choices.

Many more famous people have been trained in Ericksonian (indirect) Hypnosis and NLP than you might guess.  There are certainly far more who have strong interests here than have publically admitted so.  

On January 1, 2015, Jonathan Altfeld and 20 other co-authors released a digital book entitled "Creating Business Growth."

After six and a half great years based in central Pennsylvania, and running many courses in Washingt

What are the Four Stages of Learning?

In today's post, I share how and why an NLP Modeling project could be set up to fail, and what to do instead!

In today's post, I share a sales-closing I think you'll love, and follow that with NLP skills applied to selling, including: Sensory Acuity, Sensory Awareness, Calibration, Using Suggestions to 'plant' thoughts ethically, and other NLP language patterns!

Sales is one of the absolute best applications of NLP. Yet many salespeople well-trained in traditional models haven't taken advantage of this, usually because they're skeptical of whether or not NLP would get in the way of what they're alr
Ted VanderNoot

Cognitrix, London, UK

Attended Course : Belief Craft MP3 Set

"Your presentation of AI & Knowledge Engineering & how computer software systems can learn & decide was quite interesting. But using these models to then explore modelling in the NLP context was mind-blowing! It was really cool how well we were tracking beliefs by only the second day. [...] Not only could we track beliefs & language patterns "on the fly" but we could unravel their interconnections & their interactions conversationally. I thoroughly recommend your course to anyone who wants to improve their skills at tracking language patterns & modelling."

http://www.cognitrix.com/

Andy Smith

Trainer of NLP & Appreciative Inquiry, Coaching Leaders, France

Bought Audio : Metaphor Machine CDs

Jonathan Altfeld has done a first-class job of clarifying what makes a successful metaphor, and how to generate as many as you need. This CD set has given me a much better conscious understanding of how to use metaphor, and has changed the I way I teach metaphor use on my NLP Practitioner and Master Practitioner courses. Also, to my knowledge, this material is more advanced than anything else available on metaphor construction.

http://www.coachingleaders.co.uk/

Jenny Waller

Life Coach, Coaching with Jen,

Attended Course : Speaking Ingeniously

"Jonathan Altfeld is a highly skilled communicator and trainer whom it is an absolute pleasure to watch at work. He cultivates a learning environment which nurtures and develops the skills and abilities of everyone within the group, and created epic transformations."

http://www.coachingwithjen.com/

Jim Black

Philadelphia, PA

Attended Course : Belief Craft MP3 Set

Out of the many seminars and trainings I've participated in over the years, Belief Craft tops them all. If you make the decision to take this course, you'll not only get everything you wanted, but also things you never imagined."

Joel Elfman

NLP Trainer, Massage Therapist, & more, New York, NY

Attended Course : Speaking Ingeniously

Consistently, Jonathan delivers what he promises, and he will go out of his way to deliver special pieces that you ask for. For me, S.I. delivered! There were a ton of learnings. Not only the explicit materials Jon presented but while he was layering knowledge into us (& unveiling the layering bit by bit) and moving us up the learning curves. Light bulbs from the huge array of other skills, other seminars I've gathered just kept popping off all the time. I got to connect a lot of stuff I learned elsewhere. It was fantastic! Headlines, State chaining, Anchoring, Embedded commands, Binders, etc. are a breeze. Don't get me wrong, I'll want a lot of practice to get better. But I have zero hesitation about going out there everyday, creating or just waiting for the opportunity to use these skills. And if I hesitate a little, then I know, there is going to be another opportunity any moment where I'm going to naturally, use pieces of what I was taught. And if for any reason I found myself hestitating in the future for some reason, I can use all the skills I've learned to state chain myself, easily and effortlessly. Just yesterday, 2 days after our seminar, I was on a job interview, and w/o thinking I started to use some of what I learned. It was so easy. And if I want that, it's mine. If you've watched other trainers and wondered how they do what they do so elegantly or not. Take Jonathan's course, let him show you how to unpack the pieces, and create your own amazing presentations. Jon's course is great for any skill level, from Master Prac, Trainer to knowing nothing. One of the guys in S.I. had never taken a single NLP class before. Either he was an amazing natural or another testament to Jon's teaching skill because he was able to handle all the learnings and exercises really, really well and keep up pretty well w/ the rest of us who knew a lot more NLP.

Tim O'Keefe

Web Developer & SEO Strategist, Spider Juice Technologies, Los Angeles, CA

Attended Course :

Jonathan, your K.E. Workshop is superb. I got 100% more than I ever expected. I find you engaging and a tremendous model. Your obvious respect for your attendees is admirable. What struck me the most is how fluid the 3 days were. By the 3rd day, everything easily and naturally shifts into understanding. After 1 week, I can tell you I have shifted. The models in my own life (that we worked on in exercises) have been shifting. I have come to some realizations that will be a major change in my business, ultimately allowing me to more fully enjoy my business for the reasons I started it. Thank you!

http://www.spiderjuicetechnologies.com

Donna McGeorge

Speaker, Facilitator, People with PEP,

Hired Coaching : Personal Coaching

On the 2 occasions that you have coached me, I have experienced what I assumed to be metaphor sessions. I'm not totally conscious of the process or content of the sessions, yet the results I have had from both sessions are as follows: Session 1 - desired outcome - "get some focus and direction for moving forward given that I'd achieved a lot of what I set out to. What's next?". Whatever you did, my business increased by over 30% in revenues following the session. My focus changed, and I implemented the "Donna the Diva" project, which has resulted in my getting my mojo back, and being way more confident in my skin and clear about what I'm good at. This has also resulted in my "sacking" 2 clients that didn't fit my vision for myself, and for PEP. Again, I'm not sure that I'm consciously aware of what I was doing differently - all I know is that a shift happened, and the result was useful (to say the least). Session 2 - desired outcome - "I'm earning more money than I ever had, and I am swimming in debt - help?! ". Again, I know we talked about a bunch of strategies and I'm clear they also were metaphors. I think our session was about 8 weeks ago? Well, since then - I have cleared all my creditors, and have over $25K in a personal bank account (something that has NEVER happened before). Steve and I are currently shopping for property, and I'm no longer afraid to answer the phone for fear of speaking to a creditor. The physical manifestation of this is that I used to have a folder that was nearly 1.5 inches thick full of bills and accounts. It is currently about an eighth of an inch thick - and these are all less than 30 days. So - that's a pretty literal description of my results of working with you, and I am most grateful to you, and look forward to further coaching. I am happy for you to use any of the above. None of it is a secret - I tell anyone who cares to listen about the results I get following your sessions.

http://www.peoplewithpep.com.au/

Cesar Gutierrez

New York, NY

Bought Audio : Finding Your Irresistible Voice

People are now initiating conversations with me about trivial things just to hear my voice. For example, 'what kind of headset do I use with my cellphone?' Really, who asks people what kind of headset do they use?! A co-worker who ordinarily only talks to me only when she has to, asked me 'what time did I get off work and where do I live?' I won't say what happened after that! Results include: (1) My requests are happily granted and sometimes a little extra is thrown in for no reason. (2) I'm instantly diffusing tense and escalated situations. (3) I have increased acuity in my other senses. (4) A co-worker admitted to daydreaming while I was talking to her. One co-worker expressed a bit of jealousy because another co-worker now wants to talk to me more than they want to talk to them. If that's not irresistible, I don't know what is!! I'm usually reserved and speak only when spoken to, however, with these new techniques I find myself looking for opportunities to speak so I can practice and refine my skills. People join conversations I'm in, More people are expressing interest in my website when I use the Embedded Command technique, etc. This is just a small example, Jonathan. Keep up the good work!

Sue Pullen

Brighton, UK

Bought Audio : Finding Your Irresistible Voice

Since using your CD, I used the technique on my answerphone. And since the new voicemail, I never have any problems getting favours or work done from my male colleagues!!! Easy!!!

Allen Burnsworth

Real Estate Professional , Upstate NY

Attended Course : NLP Sales Wizardry

Hi my name's Allen Burnsworth; I'm here at the Sales Wizardry course, with