NLP Newsletters & Gifts from Jonathan Altfeld

published by
Jonathan
on Thu, 2011-12-08 07:06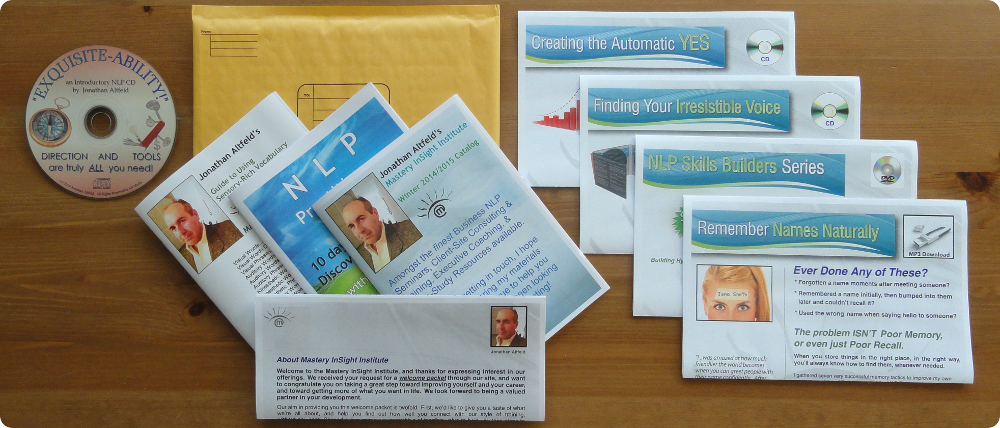 Request our welcome packet with 2 gifts: a 75-minute intro CD called "Exquisite-Ability", and our Sensory-Rich Vocabulary booklet.  These gifts are only sent to complete, verifiable entries (name/address/phone). Incomplete or anonymous requests are ignored.
Iron-Clad Customer Privacy Policy!
Your info is kept private, permanently.  No third parties will ever get your info from us, without your written request.  You can also opt out, at any time.
How We Keep You Informed
We email about blog entries, articles, classes, surveys, and new home-study programs.  We mail postcards and sometimes call prior to hosting events near you.
Share this Page!
By sharing us with your network, we're more likely to visit your location with classes! Please help grow our tribe of satisfied students and customers!
Offer Restrictions: We do not send to residents of:
India, Malaysia, Indonesia, Philippines, Pakistan, Iran, Iraq, Afghanistan, Nigeria, Egypt, Cote D'Ivoire, & certain others.  If you live in one of these countries, you can purchase a welcome-packet at the low cost of $15, here.
Please note, we do send free welcome packets to most countries around the globe).
NO Yahoo-based email addresses.
Unfortunately, Yahoo blocks email on and off from our (shared) Hostgator server. Do not subscribe with a Yahoo address; we cannot contact you. That will invalidate your form entry.
Inbox Insights
NLP gifts sent by mail:
CD & Sensory-Rich Word-List

Many NLP Practitioners are more sloppy with their thinking patterns, than they'd like to admit, or... would even notice.

Watch NLP Co-Founder Richard Bandler use NLP to eliminate Michael Strahan's phobic response to snakes -- in minutes (with Kelly Ripa bringing over a BIG snake at the end to test Michael's response). Spoiler alert: It worked ridiculously well.

No matter what skill you want to learn, no matter what fears or concerns or hesitation you may have, there are and will always be a wide range of approaches, to learning that skill.  It's important to keep that in mind when making learning choices.

Many more famous people have been trained in Ericksonian (indirect) Hypnosis and NLP than you might guess.  There are certainly far more who have strong interests here than have publically admitted so.  

On January 1, 2015, Jonathan Altfeld and 20 other co-authors released a digital book entitled "Creating Business Growth."

After six and a half great years based in central Pennsylvania, and running many courses in Washingt

What are the Four Stages of Learning?

In today's post, I share how and why an NLP Modeling project could be set up to fail, and what to do instead!

In today's post, I share a sales-closing I think you'll love, and follow that with NLP skills applied to selling, including: Sensory Acuity, Sensory Awareness, Calibration, Using Suggestions to 'plant' thoughts ethically, and other NLP language patterns!

Sales is one of the absolute best applications of NLP. Yet many salespeople well-trained in traditional models haven't taken advantage of this, usually because they're skeptical of whether or not NLP would get in the way of what they're alr
Brian Mertins

Bought Audio : Metaphor Machine CDs

Metaphor was one of the skills that originally attracted me to NLP, but after reading books and attending seminars I still didn't understand how to generate it. The best thing about the Metaphor Machine is that it lays the process out in clear and easy to understand steps so that you can truly understand how to generate effective metaphorical contexts. I found the second part of actually utilizing the metaphorical context to generate the desired effect to be less concrete, but Jonathan gives numerous examples and then a really wild demonstration that shows where you might take it as you practice... Great Product.

Lyndell Carey

Financial Advisor, Coach/Facilitator,, Dynamic Mind, Port Charlotte, FL

Attended Course : Speaking Ingeniously

"This course is the best integration & application of NLP techniques I have ever experienced. Jonathan is masterful in his ability to help you with your unique speaking & presenting problems. He essentially creates a custom "model" for each participant's presentation success based on your needs, style & goals. "

http://dynamicmind.net

Mark Wilson

Bismarck, ND

Attended Course : Flirtopia DVD-set

When I grew up we moved many times. I hadn't developed any social skills, so as I grew up I would always be shy around strangers. I begin to feel anxious in meeting not only women but also any new people. What would I say? What happens when the conversation dies? I would hang on to anyone who showed any interest in me. Needless to say, I dated many "Ms. Right Now's" rather than "Ms. Right's" because they accepted me. After I attended the Flirtopia seminar, now I feel comfortable in any social situation. In having a new perspective in reading their comfort level, interest and willingness to follow me, I can lead them into many other activities that I enjoy. As I look back in my life, without attending Flirtopia, I know I would either be alone or with people who not only would tolerate my shyness but eventually become bored with it and take advantage of me. Now I find there is so much more to life. More doors have opened through becoming more social and I have been able to choose a woman who enjoys my company and we enjoy a much richer relationship. I know there have been events that have changed who I am today. Flirtopia is one of the most important in becoming who I am today. Thank you Jonathan.

Claudio Sennhauser

Demo Coach and Author of "Giving Memorable Product Demos", Thailand

Bought Audio : Automatic Yes CD-set

In this program, Jonathan teaches how to elicit and influence emotional states in elegant and natural ways. Although the program focuses on one-on-one communication, all of the skills and knowledge taught can be applied to product demonstrations and group presentations as well. In the Sample Track from CD 1, Jonathan says: "Lead your audience to an Action State in a way that aligns with their values and beliefs." That sums up what you will get from the program: the ability to elicit and influence emotional states in your audience. You will learn how to lead someone from an Encounter State to an Action State through the chaining of smaller state changes in between. This is a skill that will set you apart from other presenters. Thinking about how your audience will feel will most certainly help you add great stories, and sequence them for maximum impact. For me, this program is a keeper! I recommend it to any product demonstrator as a secret weapon. Armed with it, you will be able to elicit and change the emotional states of your audience with elegance. I consider this the main ingredient that will lead to truly memorable demos.

http://sennhauser.com/

Elmer H. "Pete" Young

Criminal Defense Attorney, Augusta, GA

Attended Course : NLP Practitioner Training

I am waaay late in fulfilling my earlier intention of thanking Jonathan for the exciting and enlightening experience of his Practitioner course in February, 2012.
 
I have since attended another and both have literally changed the way I approach, my clients, my trials and indeed, my life!  I would tell every lawyer I know to engage Jonathan to improve their skills, but only if they didn't practice in my jurisdictions!  These skills have enhanced my life, for sure!  Thanks, Jonathan!

http://www.GeorgiaDefense.com

Richard Campo

Project Manager, London, UK

Attended Course : Belief Craft MP3 Set

 "KE is pure Dynamite and when used with [SoM], the combination is explosive! The tools compliment each other so well, you'll find you can not only smash a nut with a hammer but also finely craft and cut and piece back together an issue or problem with the finesse of a skilled craftsman."

Kevin Hill

Norwich, UK

Bought Audio : Metaphor Machine CDs

The material is presented clearly and cleanly, the technique is deceptively simple. It seems easy to start using the technique to create useful metaphors immediately, with the exciting prospect that with practice and imagination the same technique is capable of delivering really masterful results. It is completely focused on this one technique, there is no waffle and no distraction from the desired outcome. Jonathan gives the unconscious mind a clear step by step process to understand and then works at embedding the learning unconsciously, and for me this seems to work brilliantly. It seems that when I use the step by step process (the conscious bit) the results at each step "just come to me" (the unconscious bit) and the end result just seems to work. ... Overall, I'm delighted with "The Metaphor Machine". I've got plenty of NLP stuff on my MP3 player that helps me access positive states but this material is sharply focused on one sophisticated and powerful techique and it delivers practical results immediately. By far the best example of NLP training on disc that I've come across so far.

Brian Tracy

Speaker, Author, World-Renowned Business Expert, Brian Tracy International,

Bought Audio : Finding Your Irresistible Voice

"This is a wonderful program that will give you a powerful, authoritative voice. It can change your life."

http://briantracy.com/

Mayra Rivera

Attorney, Miami, FL

Attended Course : NLP Practitioner Training

I recommend Jonathan's NLP Course to anyone who is interested in dramatically improving his or her rapport and communication skills. I am very impressed with Jonathan's quick and practical approach to the questions posed by his students. I have accepted the challenge to continue practicing these skills in the future, and strive to achieve Jonathan's elegance and mastery.

Andrew Hollo

Director, Workwell Consulting, Melbourne, Australia

Attended Course : Speaking Ingeniously

I run training that involves doctors, medical practice managers and nurses - all in the same room. They have vastly different backgrounds, training and models of the world. Getting them to work together - and understand each other - can be a challenge. In 2005 I did Jonathan's Speaking Ingeniously program with the expectation that my key messages would be more concise and, therefore, more easily integrated by participants in my courses. In the six months since Speaking Ingeniously, I've experimented with headlines and with spatial anchors specifically, noticing that it's now much easier to get everyone's attention in the first 5 minutes and, then, easily keep their attention throughout a lengthy training session. Since doing Speaking Ingeniously, I'm better at tracking shifts in participants and, therefore, responding fluidly as we go. I get great feedback from all the groups and I feel I expend less effort and energy. Even people who do my courses twice can't believe that they're experiencing the same material, as they get so involved each time, it's like new learning for them. Thanks Jonathan!

http://www.workwell.com.au/