NLP Newsletters & Gifts from Jonathan Altfeld

published by
Jonathan
on Thu, 2011-12-08 07:06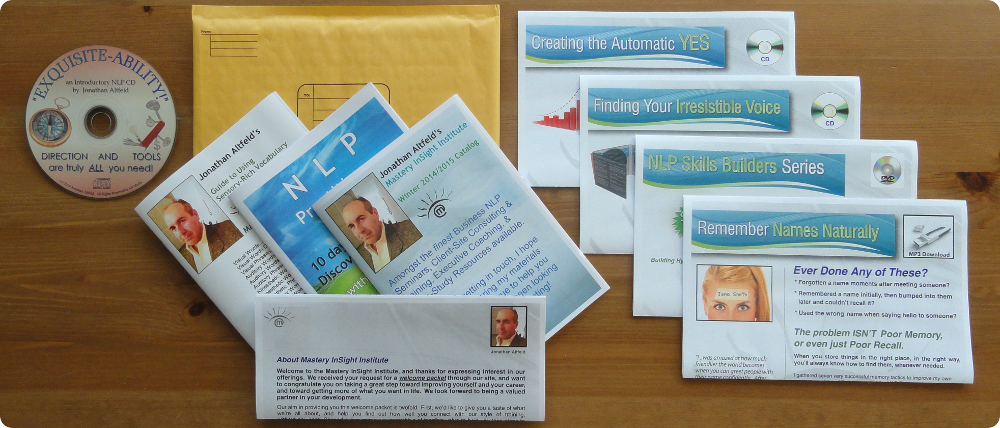 Request our welcome packet with 2 gifts: a 75-minute intro CD called "Exquisite-Ability", and our Sensory-Rich Vocabulary booklet.  These gifts are only sent to complete, verifiable entries (name/address/phone). Incomplete or anonymous requests are ignored.
Iron-Clad Customer Privacy Policy!
Your info is kept private, permanently.  No third parties will ever get your info from us, without your written request.  You can also opt out, at any time.
How We Keep You Informed
We email about blog entries, articles, classes, surveys, and new home-study programs.  We mail postcards and sometimes call prior to hosting events near you.
Share this Page!
By sharing us with your network, we're more likely to visit your location with classes! Please help grow our tribe of satisfied students and customers!
Offer Restrictions: We do not send to residents of:
India, Malaysia, Indonesia, Philippines, Pakistan, Iran, Iraq, Afghanistan, Nigeria, Egypt, Cote D'Ivoire, & certain others.  If you live in one of these countries, you can purchase a welcome-packet at the low cost of $15, here.
Please note, we do send free welcome packets to most countries around the globe).
NO Yahoo-based email addresses.
Unfortunately, Yahoo blocks email on and off from our (shared) Hostgator server. Do not subscribe with a Yahoo address; we cannot contact you. That will invalidate your form entry.
Inbox Insights
NLP gifts sent by mail:
CD & Sensory-Rich Word-List

Many NLP Practitioners are more sloppy with their thinking patterns, than they'd like to admit, or... would even notice.

Watch NLP Co-Founder Richard Bandler use NLP to eliminate Michael Strahan's phobic response to snakes -- in minutes (with Kelly Ripa bringing over a BIG snake at the end to test Michael's response). Spoiler alert: It worked ridiculously well.

No matter what skill you want to learn, no matter what fears or concerns or hesitation you may have, there are and will always be a wide range of approaches, to learning that skill.  It's important to keep that in mind when making learning choices.

Many more famous people have been trained in Ericksonian (indirect) Hypnosis and NLP than you might guess.  There are certainly far more who have strong interests here than have publically admitted so.  

On January 1, 2015, Jonathan Altfeld and 20 other co-authors released a digital book entitled "Creating Business Growth."

After six and a half great years based in central Pennsylvania, and running many courses in Washingt

What are the Four Stages of Learning?

In today's post, I share how and why an NLP Modeling project could be set up to fail, and what to do instead!

In today's post, I share a sales-closing I think you'll love, and follow that with NLP skills applied to selling, including: Sensory Acuity, Sensory Awareness, Calibration, Using Suggestions to 'plant' thoughts ethically, and other NLP language patterns!

Sales is one of the absolute best applications of NLP. Yet many salespeople well-trained in traditional models haven't taken advantage of this, usually because they're skeptical of whether or not NLP would get in the way of what they're alr
Kevin Hill

Norwich, UK

Bought Audio : Metaphor Machine CDs

The material is presented clearly and cleanly, the technique is deceptively simple. It seems easy to start using the technique to create useful metaphors immediately, with the exciting prospect that with practice and imagination the same technique is capable of delivering really masterful results. It is completely focused on this one technique, there is no waffle and no distraction from the desired outcome. Jonathan gives the unconscious mind a clear step by step process to understand and then works at embedding the learning unconsciously, and for me this seems to work brilliantly. It seems that when I use the step by step process (the conscious bit) the results at each step "just come to me" (the unconscious bit) and the end result just seems to work. ... Overall, I'm delighted with "The Metaphor Machine". I've got plenty of NLP stuff on my MP3 player that helps me access positive states but this material is sharply focused on one sophisticated and powerful techique and it delivers practical results immediately. By far the best example of NLP training on disc that I've come across so far.

Alex Kravchenko

IT Consultant, New York, NY

Attended Course : Speaking Ingeniously

Consider taking Jonathan Altfeld's "Speaking Ingeniously" course. To start with, Jonathan is a very powerful public speaker himself, so even if there was nothing else to recommend about this course, just the ability to model someone who's able to deliver an amazing impromptu presentation on just about any topic I can think of is well worth the price of the workshop. What's even better, Jonathan, in addition to being a great communicator, is also a very skillful and dedicated teacher who's quite able and willing to deploy his considerable NLP skills to make his students better public speakers. Add to this a powerful "Speaking Ingeniously" model of delivering both prepared and off-the-cuff presentations and you get a hell of a training! Before the course I had some idea about spatial and tonal anchoring, as well as state-chaining in the context of public speaking. After the course, I have experience of moving people through various states while creating anchors. I also became much better at generating attention grabbing headlines. Bottom line – Jonathan delivers what he advertises and then some! I highly recommend this course to anyone who wants to improve their public speaking skills.

Bob Dillon

Seminar Leader, Vermont

Attended Course : Speaking Ingeniously

No matter where you perceive your skill level, there is always more. Jonathan not only cuts diamonds, he polishes them, and adds more facets."

Steven Kenyon

Trainer, Network Consultant, Manteca, CA

Bought Audio : Finding Your Irresistible Voice

I'm a technical trainer who frequently teaches MCSE bootcamps. What that means is I take a group of 10 to 20 people and cram 6 months of learning into 1 or 2 weeks. This is an exercise for me as an instructor since it is 12 hour days, but with only 14 days to pass 7 tests, it's grueling for my students. Before I listened to your CD's, there were times when it seemed like no matter how much the students wanted to learn, they could only absorb so much in a day. About 8 hours into the second day most of my students would start to gaze over completely and frequent breaks were needed. Too frequent in my opinion (sometimes it's hard to get them to come back in and get going). With the proper use of your Dual Tone Voice & Modulation techniques, I found that my students could be completely captivated, even late into the last day! This program should be mandatory listening for teachers and trainers in any industry. Thank you for such an awesome program!

Oscar Rodriguez

Hypnotherapist, Real Estate Agent, Hypnosis Washington DC,

Attended Course : NLP Sales Wizardry

Hey, my name is Oscar Rodriguez, I am sitting here at the end of an amazing class by Jonathan Altfeld. There's a couple of things about Jonathan that I've liked. He's kind of a person who (Oscar meant to say DOESN'T!) makes promises that he doesn't intend to keep. And it's really cool because, the promises that he makes, are always exceeded at every event that I have been with. So he taught us the 5 step process in Sales. Not only did he go meticulously through that step, but he helped us to break it down and to focus on the areas of weaknesses we had, or how to empower or become even stronger in places that we already knew we were doing, He told us very specific events, steps, and processes that we need to do to take to go to the next level. So were my expectations met, well, of course, I already expected great things and I got blown away once again. If you're a sales person, if you're any type of hypnotherapist, any type of a process-oriented person or any type of an individual who really needs to connect with others, persuade others to really get your message across. If you're a teacher, if you're the President of the United States, and want to get re-elected, Come. Listen, get action, and you'll be able to get not only the stuff that you need, but you'll be blown away by being able to get the results. if you're in the Washington DC area, if you take this class, come and join me for a refresher of this so that you can get what you really need. Thanks Jonathan!

http://hypnosiswashintongdc.com/

Jorge A. Colon

Attorney, Miami, FL

Attended Course : NLP Practitioner Training

Jonathan Altfeld is truly dedicated to each of his students' growth and effectiveness. His integrity, patience, and kindness are a good model for trainers, managers, and parents.

Alex Akselrod

Bought Audio : Finding Your Irresistible Voice

As a certified hypnotherapist, I can tell you that I will use these techniques in all of my future hypnosis work, both with clients & on tape, as well as any inductions I record for free distribution. Jonathan demonstrated these techniques as he taught them, & each time, I had a high level of response to them. He is a very dynamic speaker, & forced me to really pay attention & understand the communication at all levels.

Crystal Spring

NLP Practitioner & Reiki Master,

Attended Course : NLP Practitioner Training

Once again Jonathan has completed a training and brought us all to a beautiful crescendo, ascension of skills, clarity, and directed us in reframing the hovering hesitant past to a powerful present which is future-paced and has maximal integration. Thank you Jonathan.

Michael Christon

NLP Trainer & Entrepreneur, Edinburgh, Scotland

Attended Course : Linguistic Wizardry

Linguistic Wizardry is a 3-day course which can be attended by non-NLP, Practitioners, Master Practitioners and Trainers... and all will enjoy and learn from the experience. Not only does Jonathan demonstrate an incredible understanding and proficiency in linguistics but presents/trains in a very entertaining and effective manner. As a trainer of NLP I still enjoy attending training (there is always something to be learnt) - on such occasions I have a professional interest in what outcomes are achieved by the trainer. It is on this point that Jonathan stands out a mile in comparison to many trainers in the field of NLP... EVERYONE in the room dramatically improved their skill level. In my experience I have never come across such success... and I have trained with many 'great' names. As for the content - This course is not an indepth exploration of the Meta Model or Milton Model, though there are a few references through the three days. Instead this programme quite rightly concentrates on the basis and delivery of communication with specific emphasis on state and sensory acuity. Hence - If you were wondering why your 'theoretical' or academic understanding of language has not achieved the desired practical results - THIS IS THE COURSE FOR YOU. Jonathan is amazing and definitely deserves to be considered as one of the best NLP trainers in the world. And interestingly - he is without ego or arrogance and is (for me) one of the easiest trainers to chat with I have ever met. If you have not already done so - TRAIN WITH JONATHAN and discover just how much further you can take your NLP skills.

Anand Rao

London, UK

Attended Course : Belief Craft Seminar

"I thoroughly enjoyed the training which has helped me to fill in a tremendously powerful area of skill in NLP, that I had previously avoided by thinking it was going to take too much effort to learn. Combining [SoM] with KE gives a context in which to precisely use language patterns."