NLP Newsletters & Gifts from Jonathan Altfeld

published by
Jonathan
on Thu, 2011-12-08 07:06
Thanks for your interest!  Lets bring the results you seek, closer!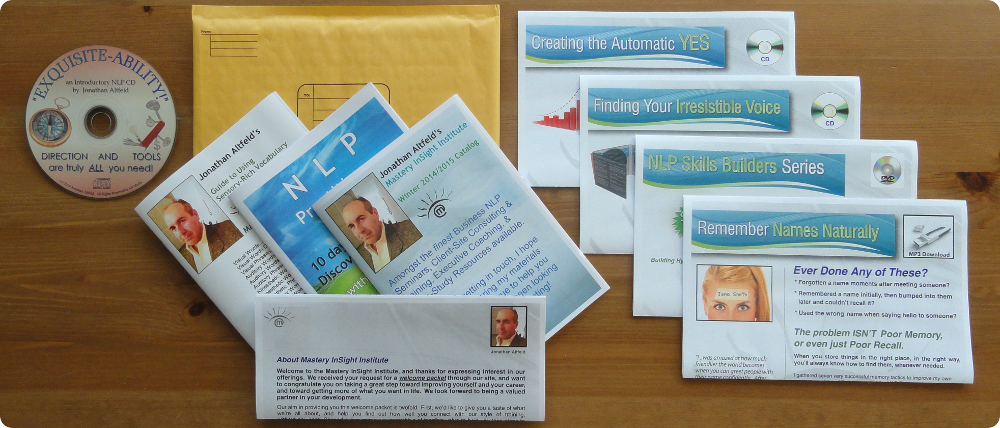 Request your welcome packet with 2 free gifts: a 75-minute intro CD called "Exquisite-Ability", and our popular Sensory-Rich Vocabulary booklet.  These gifts are only sent to complete, verifiable entries (name/address/phone). Incomplete or anonymous requests are ignored.
Iron-Clad Customer Privacy Policy!
Your info is kept private, permanently.  No third parties will ever get your info from us, without your written request.  You can also opt out, at any time.
How We Keep You Informed
We email about blog entries, articles, updates, events, surveys, customer comments, and new home-study resources.  We mail postcards and occasionally call prior to hosting events near you.
Share this Page!
By inviting friends to visit us, you make it more likely that we can visit your location with workshops! Help us grow our tribe of satisfied students and customers!
Offer Restrictions: We do not send to residents of:
India, Malaysia, Indonesia, Philippines, Pakistan, Iran, Iraq, Afghanistan, Nigeria, Egypt, Cote D'Ivoire, & certain others.  If you live in one of these countries, you can purchase a welcome-packet at the low cost of $15, here.
Please note, we do send free welcome packets to most countries around the globe).
NO Yahoo-based email addresses.
Unfortunately, Yahoo blocks email on and off from our (shared) Hostgator server. Do not subscribe with a Yahoo address; we cannot contact you. That will invalidate your form entry.
NLP gifts sent by mail:
CD & Sensory-Rich Word-List

Many NLP Practitioners are more sloppy with their thinking patterns, than they'd like to admit, or... would even notice.

Watch NLP Co-Founder Richard Bandler use NLP to eliminate Michael Strahan's phobic response to snakes -- in minutes (with Kelly Ripa bringing over a BIG snake at the end to test Michael's response). Spoiler alert: It worked ridiculously well.

No matter what skill you want to learn, no matter what fears or concerns or hesitation you may have, there are and will always be a wide range of approaches, to learning that skill.  It's important to keep that in mind when making learning choices.

Many more famous people have been trained in Ericksonian (indirect) Hypnosis and NLP than you might guess.  There are certainly far more who have strong interests here than have publically admitted so.  

On January 1, 2015, Jonathan Altfeld and 20 other co-authors released a digital book entitled "Creating Business Growth."

After six and a half great years based in central Pennsylvania, and running many courses in Washingt

What are the Four Stages of Learning?

In today's post, I share how and why an NLP Modeling project could be set up to fail, and what to do instead!

In today's post, I share a sales-closing I think you'll love, and follow that with NLP skills applied to selling, including: Sensory Acuity, Sensory Awareness, Calibration, Using Suggestions to 'plant' thoughts ethically, and other NLP language patterns!

Sales is one of the absolute best applications of NLP. Yet many salespeople well-trained in traditional models haven't taken advantage of this, usually because they're skeptical of whether or not NLP would get in the way of what they're alr
Sue Pullen

Brighton, UK

Bought Audio : Finding Your Irresistible Voice

Since using your CD, I used the technique on my answerphone. And since the new voicemail, I never have any problems getting favours or work done from my male colleagues!!! Easy!!!

Bob Dillon

Seminar Leader, Vermont

Attended Course : Speaking Ingeniously

No matter where you perceive your skill level, there is always more. Jonathan not only cuts diamonds, he polishes them, and adds more facets."

Brian Tracy

Speaker, Author, World-Renowned Business Expert, Brian Tracy International,

Bought Audio : Finding Your Irresistible Voice

"This is a wonderful program that will give you a powerful, authoritative voice. It can change your life."

http://briantracy.com/

Jason Knierum

Entrepreneur, Sydney, Australia

Attended Course : Speaking Ingeniously

"I very much enjoyed your seminar. Having more comfort when I talk with people makes the rapport deeper. Even though my demo is only 90 seconds, I hold longer eye contact with more potential customers, building a sense of connection. Result? Sales of my juicer product increased 30%." -

Jay Cataldo

Bought Video : Persuasion Summit

I have a heavy background in NLP and sales persuasion and I haven't seen Chris' material anywhere else. I think that the people who already have an NLP background will benefit the most from his tapes; because you can use everything you already know and combine it with his [higher-level] strategies. Chris's teaching style reminds me of Richard Bandler's in the way that he uses countless stories to make points and get you to think outside the box. I think his entire plan was just to get you to shift your awareness and start thinking differently. My biggest epiphany came when Chris went into tremendous detail about perceptual characters and how to install custom criteria. After watching the videos, it finally clicked in my head and I truly feel it is one of the most useful principles I have ever learned. ESPECIALLY in the area of personal relationships. Light bulbs have been going off in my head for the last couple days now over this stuff. The Persuasion summit videos are about installing a framework so you can generate your own techniques in whatever context you need to. If you're willing to invest some time, this can easily be one of the best investments you will ever make. You can use his system in conjunction with any `techniques" you are using now. Like I said before, I think people with a strong NLP background will benefit the most from these tapes, because they are already used to installing new tools in their subconscious to obtain unconscious competency, among other reasons.

Drew Kennedy

Sales Professional, Entrepreneur, Dallas, TX

Attended Course : NLP Sales Wizardry

Hey, my name's Drew Kennedy, and I attended Jonathan Altfeld's NLP Sales Wizardry Program, NLP, and I didn't know what to expect. He said he was going to show a bunch of information; I've seen some trainers around the world; Jonathan blew me away. I can't stress it enough; the man was amazing. Too much information, really. 18 hours of craziness, and all kinds of stuff, it was the most amazing seminar in sales I've ever participated in. My expectations, again, they were high, because I had a lot of expectations meeting Jonathan and knowing what he was capable of, but guess what: I knew that he was going to be the man – and he blew me away. He underpromised and then he overdelivered. What suggestion would I give to other salespeople: Let him come unpack the power, people, that's all I can say to you. Just let him unpack the power. He was phenomenal. Whatever it takes for you to get here, move Heaven and Earth, and come see Jonathan; He will change your world, and unpack your power!

Ted VanderNoot

Cognitrix, London, UK

Attended Course : Belief Craft MP3 Set

"Your presentation of AI & Knowledge Engineering & how computer software systems can learn & decide was quite interesting. But using these models to then explore modelling in the NLP context was mind-blowing! It was really cool how well we were tracking beliefs by only the second day. [...] Not only could we track beliefs & language patterns "on the fly" but we could unravel their interconnections & their interactions conversationally. I thoroughly recommend your course to anyone who wants to improve their skills at tracking language patterns & modelling."

http://www.cognitrix.com/

Howard Wolf

Miami, FL

Attended Course : Persuasion Summit

PTPS was absolutely the best training in persuasion I've ever experienced. Chris' skills in NLP and persuasion are a compilation of the best of Richard Bandler, Kenrick Cleveland, & Michael Hall, all combined. Chris has evolved these techniques, enhanced them, and repackaged persuasion for the new millenium. Chris has tested his techniques thousands of times through the thousands of telemarketers he's managed over the years. This seminar will go down in the annuls of NLP history.

Jorge A. Colon

Attorney, Miami, FL

Attended Course : NLP Practitioner Training

Jonathan Altfeld is truly dedicated to each of his students' growth and effectiveness. His integrity, patience, and kindness are a good model for trainers, managers, and parents.

Marcus Inoue

San Diego, CA

Bought Audio : Finding Your Irresistible Voice

  Jonathan Altfeld speaks the pleasant truth with his "Finding Your Irresistible Voice" CD set. To my enjoyment, the exercises have improved the quality of my voice. I practiced the techniques that I learned from Jonathan on my brother. In the past, it was difficult to keep his attention due to my monotone voice, but recently when I spoke with my brother, I had his complete attention.